Foundry Analytics (IoT)
Solving the Challenges of Tomorrow with Total Process Visibility

Accelerate your Foundry's performance with Sinto Foundry Analytics, empowered with Beet Technology. Digitize and optimize your system by visualizing every device, motion, and event on your machine(s) or system(s) to generate a clear actionable solution for optimum productivity and efficiency.

Industry 4.0 revolution has brought with it data collection and real-time analysis. Sinto Foundry analytics allows operators, maintenance personnel and management to digitize and visualize machine performance. This allows for optimization of processes by focusing on areas that show changes in performance based on real-time data.
REAL TIME ANALYSIS

 available on any device at any time, wherever you are

PREDICTIVE MAINTENANCE

 finding hidden issues, illuminating downtime

INCREASED PRODUCTIVITY

  optimize processes, shorten launch cycle, improve yield and communication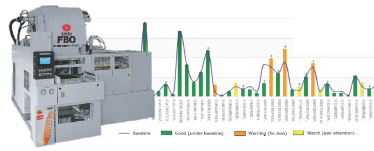 Captures and records every motion or event of the system with SmartTags 
MULTI-LEVEL REPORTING

What if you could identify failures and downtime in advance?
What is the improvement of your overall equipment effectiveness (OEE) worth? Contact us today to talk more about Sinto's Foundry Analytics and how to get started today.
Like to learn more about Sinto Foundry Analytics service? Download our flyer here: Sinto Foundry Analytics