Pneumatic Peening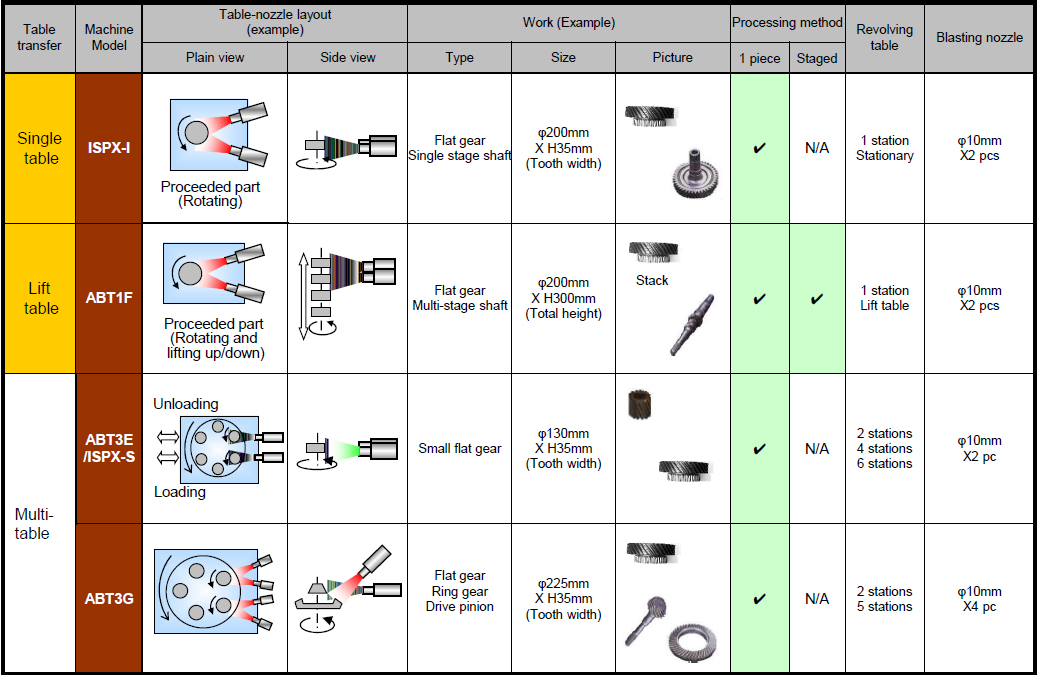 Product
Description

ABT-1F

Single chamber design for flat gears stacked together or a single gear up to 200mm in diameter. 

ABT-3E

Multi-table shot peening machine, multiple rotating carousels (6 stations) on a big turntable

ABT-3G

ISPX-I

Single table shot peening system

ISPX-S

Robotic Peening Machine

The Sinto Robotic Penning Machine is a 7-axis robotic pressure-blast shot peening system in which a 6-axis robot is placed inside the blast cabinet as a blast nozzle manipulator. The cabinet also includes a 24" diameter rotary indexing table which can be controlled as a 7th axis of robotic motion. The turntable has a maximum weight capacity of 1000 lb. The cabinet interior walls and door are lined with ¼" Neoprene rubber to prevent abrasive wear. The rotary turntable is indexed with a cylinder that extends and retracts too allow two positions repeatable positions, load/unload position and working position. With the cylinder extended the turntable is easily loaded and unload either manually or by an overhead crane. When running the machine the cylinder must be in its working/retracted position. During the shot peening cycle, the indexing table and robot nozzle manipulator are synchronized to precisely replicate the programmed tool path and maintain the correct nozzle position at the required surface speed. The media delivery system stores the media in ASME certified pressure vessels. It is designed as a dual pressure pot system to allow uninterrupted media flow. The operation is described in detail in the next section (Media Delivery System). The machine has two sets of upper & lower pressure pots for dual media use. When the blast sequence starts, the bottom pressure pot fills with compressed air thus forcing out the media through a Magnavalve before mixing with compressed air from a pusher line to meter the media flow. The pusher line also has an orifice that only allows a specific amount of air to the nozzle. This dictates the air to media ratio to the nozzle. After the media leaves the nozzle, it's gravity falls into the hopper system below the floor grating. The hoppers are connected to a urethane pipe under the machine that is under a vacuum. This vacuum is generated by the dust collector fan and can be controlled by the fan damper. The media is conveyed pneumatically via the urethane ducting. The airstream with media then goes into a cyclone separator where the media is separated from the airstream and flows down to a media classifier. The classifier further screens the media to the required size and then deposits the good media into the pressure vessel system while automatically discharging the waste into a waste barrel. The dust collector that powers the pneumatic conveying system is a standard horizontal cartridge type equipped with a Magnahelic gauge and pulse system to clean filter cartridges. The dust from the filter cartridges falls into a drum under the collector when pulsed.