Sightia Surface Evaluation
Sightia™ is the brand name of the technology used to evaluate residual stress on surfaces after the blasting and peening processes. It was developed by Sinto, delivering surface evaluation treatment as a total package.
Sightia series offers total support for surface evaluation in all industries where high durability is required to be measured. This technology is applicable to various industries, from component parts for automotive, aircraft, and construction machinery to springs, dies, tools, etc.
We have enabled the measurement and inspection of various surfaces that couldn't be evaluated previously. Sinto offers 2 different measurements. The first option is the ECNI-1 and the second option is the PSMX-II.
FEATURES:
Validate residual stress values
Nondestructive residual stress validation
X-ray diffraction
Surface evaluation technology used after the blasting and peening process
Fastest in the world, collect data with the PSMX-II and with the ECNI-I in only 10 seconds
Applicable to various industries and offers total support for surface evaluation where high strength is required
Gears, auto parts, aerospace, railways, bridges, infrastructure, construction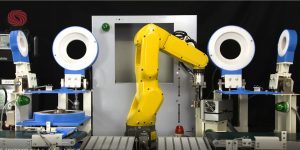 PSMX-II
Fastest X-ray diffraction residual stress measurement device on the market
Two models

Standard model: measures the residual stress on parts after they have been peened, 10 second cycle time
High Speed model: 6 to 7 second cycle time, provides total visualization of stress value measured at the part surface

In-line stress measurement device
Incorporating a single piece process flow achieves inspection of surface residual stresses of all products within cycle time
It is possible to inspect in-line by integrating the technology into existing shot peening treatment equipment conveyor lines. It makes in-line quality control possible and prevents distribution of defective products
ECNI-I
Non-destructive, inspect the entire peened surface without damaging it
Uses an eddy current probe to test parts prior to peening to make sure parts are free of defects
Real-time, in-line inspection device that can be used on parts with an OD between 20-250mm and a width of 20-60mm
Inspects peening quality without causing damage to parts
Test data is collected within 3 seconds and a pass/fail result can be determined
Possible to inspect all products by installing a device into your existing conveyor
Specifications
PSMX-II
Description
PSMX-II

Sensor body Dimensions
Standard type: 9"x 6" x 5"
(231mm x 144.5mm x 118mm)
High-power type: 13" x 5" x 5.5" (322mm x 130.5mm x 140mm)
Sensor body weight
Standard type: 10 lbs. (Approx. 4.5kg)
High-power type: 20 lbx. (Approx. 9.5kg)
Power supply unit dimensions
12 " x 12" x 7" (300mm x 302mm x 176mm)
Power supply unit weight
13 lbs. (Approx. 6kg)
Measurement item
Residual stress
Measurement object
Iron (ferrite) *including interlocking PVC shield to fit measurement object
Measurement time
Approx. 10 seconds (depending on the measurement object and specifications)
X-ray tube
Standard type: Cr-Ka 30kV, 1.6mA 48W
Distance from sample
Iron (ferrite)
<1" (20 mm)
Range of sample in Z axis
<.1" (0.2mm)
ECNI-I
Name
ECNI-I
Dimensions

14" x 6" x 8"
(358mm x 147mm x 195mm)

Weight

2 lbs. (3.0 kg)

Power Supply

DC24V, 30W

Interface

EXT I/O, SD memory card, RS232C

Operating temperature and humidity range

0 - 40° C, 80% or less (non-condensing)

Memory capacity for judgment conditions

100 patterns

Measurement object: Material
Ferromagnetic material such as steel and nickel alloy

Measurement object: Shape
Axially symmetric parts (a product of non-axially symmetrical parts requires two-axis positioning)
*Probe is designed to fit the object to be measured, outer diameter: 20-25mm width: 20-60mm

Measurement time

Approx. 3 seconds

AC adapter

AC 100 - 240V

Storage case Dimensions

22" x 18" x 10"
(560mm x 455mm x 265mm)

Storage Case Weight

16.5 lbs (7.5kg)

Interface cable

"D-SUB 15-pin cable 15m (EXT I/O)
D-SUB 9-pin cable 5m (RS232C)"

Request More Info
Please fill out the form below if you would like to be sent more information