Sightia Surface Evaluation
Sightia™ is a class of technology encompassing a group of non-destructive testing equipment and services suitable for harsh industrial environment developed by Sinto America to evaluate surface properties of parts undergoing surface treatment processes delivering accurate and repeatable results. This technology is intended for any customer who desires the highest level of surface inspection, ensuring that all parts perform to their best capability in service. Sinto wants our customers who are currently facing surface defects in their parts, at different stages of manufacturing, like casting, machining, heat treatment and surface treatment processes to overcome the challenges with the help of Sightia™ devices. Sightia™ devices also helps engineers and product development teams to measure actual residual stresses while development of new products.
You can control the process using stress values on each part!

Provides increased reliability and quality assurance of the shot peening process by integrating a  device into the shot peening process and inspecting all products in-line
Sightia™ series offers total support for surface evaluation in all industries where high durability is required. This technology is applicable to various industries, from component parts for automotive, aircraft, and construction machinery to springs, dies, and tools.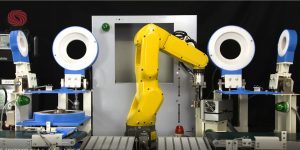 Sinto offers four different instruments for surface evaluation: PSMX, PSMX-I, PSMX-II and ECNI. See below for more information.
Application in a Manufacturing Line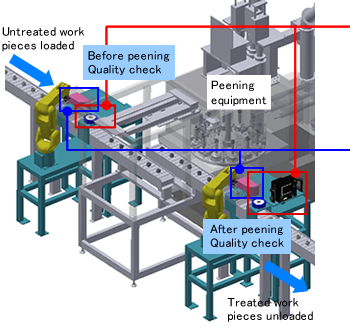 Check out Sinto Surface Treatment's drum blast machines!
PSMX
PSMX Series-Sightia™ PSMX series devices measures the residual stresses in metallic parts. Sightia™ devices employ cosα method along with 2 dimensional detector.
Cosα method is a relatively newer method of residual stress measurement which is capable of determining residual stresses with just one irradiation of X-Ray.
Using two dimensional detector along with cosα method reduces the measurement time from minutes, even hours to within seconds.
The results of cosα method are also more accurate than widely used sin2ψ method since the residual stresses are calculated from full Debye Scherrer ring.
Sightia™ devices are designed by highly skilled cross-functional team of scientists, engineers and industry experts from across the world who took great care in designing the device to suit harsh factory floors to clean laboratories.
Sightia™ devices are evolving rapidly in their capabilities as industries are now finding more and more applications and design team is tailoring more devices to fulfill customer requirements.
Sightia™ devices finds application in any industry where part strength is of importance.
PSMX-I
PSMX-1 Series-Sightia™ PSMX-I, otherwise known as µ-X360s is a portable, versatile residual stress measurement device which can measure residual stresses in complex parts.
It finds direct application in research and development of new parts to identify any residual stress that might develop as a result of manufacturing process.
Digitally designed products often fail to consider the effect of manufacturing processes, which can leave harmful residual surface stresses on the part resulting in unexpected failure during service.
Actual parts designed with Finite element analysis often deviate from the simulated model because of multitude of stresses that a part might encounter during forming, casting, and machining.
Even a slightest mishandling that a critical part may encounter before assembly can later result in part failure.
PSMX-I makes it possible to determine the residual stresses on part after each manufacturing process which can prevent any undue failures for parts.
PSMX-I is a device suitable for R&D during product design to ensure no factor goes unnoticed.
It is capable of measuring Steel, Aluminum and Inconel parts.
Sinto can tailor each device according to your part involving design of fixtures and offers device specific software which can help you monitor and record the residual stress as the design changes.
Because of the edge technology, PSMX-I can accelerate the design process because of its rapid measurement time of less than 30 seconds.
Moreover, the same device can be used to measure steel and aluminum parts.
Aerospace industry can greatly benefit from the PSMX-I since it provides he same capabilities for Inconel parts.
PSMX-II
PSMX-II-Sightia™ PSMX-II is a robust, complete stress measurement solution with measurement times of 10 seconds that industry has never seen before.
It is intended for industries where residual surface stress is necessary to be measured for each part.
PSMX-II device is tailored for each part along with a material handling system that measures part before and after processing such as shot peening or heat treatment and can pass or reject each inspected part after comparing desired residual stress values with individual residual stress values.
Each PSMX-II in-line measurement system can work in a one-piece flow or bulk manufacturing environment customized to meet each customer's requirement.
Sinto have previously provided complete solutions to gear industry where each gear is inspected pre- and post-peening to maintain highest standard of quality.
Also, residual stress measurement with PSMX-II ensures that customer do not need to worry about the quality of peening with almen strips or dissection methods which are time consuming, and costly making 100% inspection impractical.
PSMX-II inherently ensures 100% inspection cutting losses in terms of samples that would have been otherwise destructed for testing.
PSMX-II is an in-line stress measurement device. Incorporating in a single piece process flow achieves inspection of surface residual stresses of all products within cycle time.
Fastest X-ray diffraction residual stress measurement device on the market
High-speed stress measurement for possible in-line integration, and compact size.
Measure the residual stress on the surface of parts, after they have been peened, in just 10 seconds
It is possible to inspect in-line by integrating the technology into existing processes
Highly accurate and easy to use
Applicable to various industries: gears, automotive, aerospace, etc.
Individually measures each product's surface residual stress without destroying. Instead of quality control by confirming process capacity through arc height and coverage, or stress measurement by inspection through sampling and breaking products, it inspects the surface residual stress of all products by X-ray.
Possible to change the settings to match your products. Optimal measurement performed based on preset parameters including measured positions and locations as well as cycle time.
ECNI-I
ECNI-Sightia™ ECNI devices are non-destructive device for special application in gear and similarly shaped parts.
ECNI can detect defects on the surface of parts in just 3 seconds ensuring 100% inspection without slowing down the production flow at all.
These robust devices are capable of measuring any symmetric part with an outer diameter between 20-250 mm and height between 20-60mm as standard.
Sinto can also customize ECNI system according to customers' part requirements.
This device operate on the phenomenon of Eddy current and can precisely track each part.
ECNI devices are often integrated with PSMX-II devices to maintain a quantitative as well as qualitative quality control.
Inspects peening quality without causing damage by scanning post-peening parts. Assures to quality assurance of treated products and prevents distribution of defective products.
Safe, easy, fast and non-destructive inspection of the entire peened surface
Uses an eddy current probe to test parts prior to peening to make sure parts are free of defects
Real-time, in-line inspection device that can be used on parts with an OD between 20-250mm and a width of 20-60mm
Pass/fail result can be achieved within 3 seconds
It is possible to inspect in-line by integrating the technology into existing processes
Specifications
PSMX-II
Description
PSMX-II

Sensor body Dimensions
Standard type: 9"x 6" x 5"
(231mm x 144.5mm x 118mm)
High-power type: 13" x 5" x 5.5" (322mm x 130.5mm x 140mm)
Sensor body weight
Standard type: 10 lbs. (Approx. 4.5kg)
High-power type: 20 lbx. (Approx. 9.5kg)
Power supply unit dimensions
12 " x 12" x 7" (300mm x 302mm x 176mm)
Power supply unit weight
13 lbs. (Approx. 6kg)
Measurement item
Residual stress
Measurement object
Iron (ferrite) *including interlocking PVC shield to fit measurement object
Measurement time
Approx. 10 seconds (depending on the measurement object and specifications)
X-ray tube
Standard type: Cr-Ka 30kV, 1.6mA 48W
Distance from sample
Iron (ferrite)
<1" (20 mm)
Range of sample in Z axis
<.1" (0.2mm)
ECNI-I
Name
ECNI-I
Dimensions

14" x 6" x 8"
(358mm x 147mm x 195mm)

Weight

2 lbs. (3.0 kg)

Power Supply

DC24V, 30W

Interface

EXT I/O, SD memory card, RS232C

Operating temperature and humidity range

0 - 40° C, 80% or less (non-condensing)

Memory capacity for judgment conditions

100 patterns

Measurement object: Material
Ferromagnetic material such as steel and nickel alloy

Measurement object: Shape
Axially symmetric parts (a product of non-axially symmetrical parts requires two-axis positioning)
*Probe is designed to fit the object to be measured, outer diameter: 20-25mm width: 20-60mm

Measurement time

Approx. 3 seconds

AC adapter

AC 100 - 240V

Storage case Dimensions

22" x 18" x 10"
(560mm x 455mm x 265mm)

Storage Case Weight

16.5 lbs (7.5kg)

Interface cable

"D-SUB 15-pin cable 15m (EXT I/O)
D-SUB 9-pin cable 5m (RS232C)"

Request More Info
Please fill out the form below if you would like to be sent more information