Robotic Peening Machine
Sinto America's robotic peening machine is based on a 6-axis robot, manipulating a pressure-blast shot peening system. The machine includes a 24" diameter rotary indexing table which can be controlled as a 7th axis of robotic motion.  This system minimizes floor space utilization and designed for ease of maintenance and calibration functions, utilizing Sinto's years of shot peening experience. This new compact machine design enables inexpensive transportation as well as fast installation and start up at the customer's facility.
ROBOTIC SHOT PEENING MACHINE HIGHLIGHTS:
Off-line programming using solid modeling similar to CAD/CAM systems

3D simulation with chamber, table , nozzles, and parts to test run parts for verification of the following:

Nozzle tool path for coverage mapping
Nozzle to Part Impingement Angle
Nozzle to Part Stand-Off distance
Potential interference between part and machine
Off line programming with the part drawing will prevent the potential for interference between the part and machine
Clearance for tooling & chamber
Successful Program execution with ancillary devices such as air blow-off or automatic door/unload features
Superior Flexibility using Sinto's quick-change media system

Pressure vessel drain system

Pressure Vessel Drain Valves
Removable storage containers

Quick-change classification system

Easy access to screen decks
Quickly change screen to match media size

Programmable Logic Controller (PLC) with Human Machine Interface (HMI) system

Multiple media recipes for Magna-Valve calibration
Media monitoring with automatic filling chamber to eliminate over-filling and low shot alarms during cycle.
Warning message with indicator of low media levels due to obstruction or failed component (media delivery > media recovery) to prevent in-process faults

Rotary air lock for media recovery.
Ergonomic part load/unloading via notched chamber and door.
Multi-sized media delivery bulkhead for efficient routing of all media delivery hoses entering the processing chamber.

Chamber wall is fitted with manifold for a range of all common hose diameters
Ensure hoses are neatly & safety routed inside and outside of the chamber for easy maintenance.
Improved ease of maintenance due to ergonomic design

Optional Stress Measurement and Part inspection available using Sightia Integration
Specs
| Customer Industry | Peening |
| --- | --- |
| Operation to be performed | Robotic Shot Peening Parts |
| Size (Largest) | 48" D and 48" H |
| Size (Smallest) | Not specified |
| Temperature | Ambient |
| Surface to be cleaned | External and or Internal |
| Shot size | CCW14 TO CCW35, S110 |
| Material Handling (In) | Hand loaded or by overhead crane |
| Material Handling (Out) | Hand loaded or by overhead crane |
| Dust Collector | Torit DFE 3-6 |
| Robot weight capacity | 40 lbs |
| Inside cabinet size | 85" height, 65-1/2" depth, 98-1/2" width |
| Overall footprint | 18'-3" height of reclaim system, 10' depth, 11' width |
| Turntable weight capacity (max) | 1000 lbs. |
| Electrical enclosure | NEMA 12 |
| Control Panel | 10" color touchscreen |
*The parts to be peened come to the peening process in varying conditions; therefore different cycle times may be required to achieve an acceptable finish.  Roberts Sinto Corporation cannot control the condition of the entering parts, so an exact peened time cannot be guaranteed.
*Parts must be dry and free of cutting fluid, oil, and grease.  Surface finish will vary with peened media.  A test is recommended to demonstrate the expected finish on the required work pieces.
Machine is designed to be modular in nature. Specifications will be gladly provided along request.
Robotics  
ABB IRB2600 20kg 1.65m Reach – Standard Design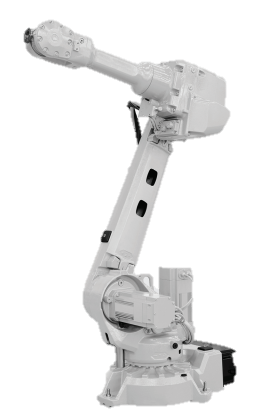 Fanuc LR Mate 200iD/7L 7kg, 9.11m Reach – Optional Design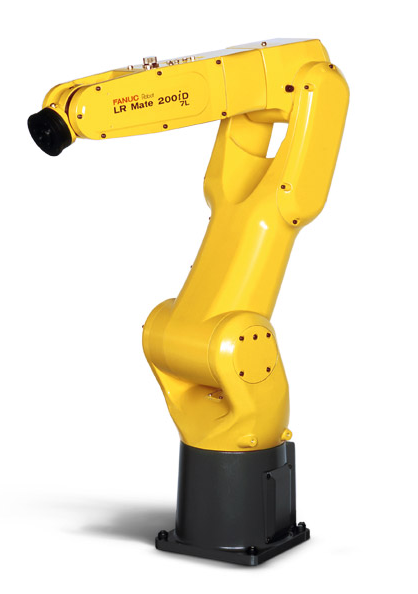 ABB IRB1200 5kg, .9m Reach – Optional Design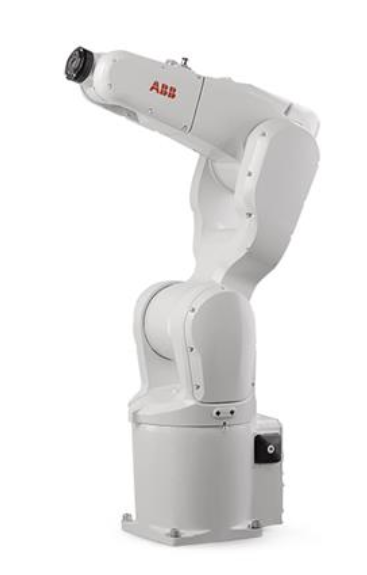 Request More Info
Please fill out the form below if you would like to be sent more information
Features
Inner walls lined with ¼" Neoprene rubber to prevent abrasive wear.
Turntable indexed with a cylinder that allows for ergonomic loading and unloading of parts.
Complete programmable robot and turntable synchronization.
Parallel dual pressure pot peening system for dual media storage.
Continuous uninterrupted peening with dual upper and lower pressure pot system.
Vacuum media reclaim system.
Improved features for ease of maintenance and servicing.
Front loading door with rear maintenance access door with viewing windows.
Easily loaded and unload either manually or by an overhead crane
Precise and easy programming
Uninterrupted medial flow
Environmentally safe
Four LED spot light fixtures in the cabinet that are blast proof and can be used to illuminate the desired areas of the machine
The rotary turntable is indexed with a cylinder that extends and retracts, allows two positions: load/unload position and working position.
Structural stability due to machine framework fabricated from hot-rolled steel tubing and welded directly to the peening cabinet weldment
Optional offline part path programming.