Corporate Philosophy

Since its foundation in 1934, Sinto has been committed to developing the most innovative technologies in order to supply the best foundry equipment in the process materials industry. 
This is based on:
"Giving Form and Life to Process Materials."
Sinto aims to establish strong relationships of trust with our members and customers around the world. We continue to provide new solutions that are the product of ongoing evolution. From increased productivity and higher-quality products to environmentally-conscious manufacturing, Sinto's award-winning, world-class technology can take your business to the next level.
Origin of the Name SINTO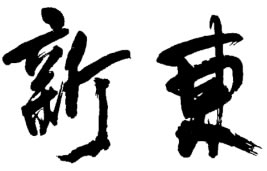 Sinto in Japanese is written with two characters. The first means "new" and expresses our desire to always take on new challenges. The second means "east", and just as the sun rises in the east, we are always moving forward with hope.
Combining our strengths and our passion, we will soar into the future.
Brand Slogan
"New Harmony >> New Solutions™" is our slogan declaring our differentiated technology and reliable customer support, the philosophies of the Sinto Group.
It is our hope to establish strong relationships of trust through deeper bonds with our customers. To achieve this goal we will continue to provide new solutions and benefits that are the product of ongoing evolution, bringing together our technical prowess and customer support.
We create new solutions and value through the fusion of our wide array of technologies. Our corporate activities contribute to the harmony of society and the environment.
The infinitely outstretched red band in our brand design symbolizes "Connection", "Heart" and "Passion". The gray band symbolizes our whole-hearted commitment to quality as a manufacturer working in metal-related industries.
3-in-1 Solutions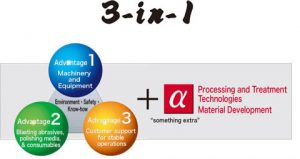 Sinto has a system of surface treatment solutions unique in the industry. It is a comprehensive system of optimized use of surface treatment technologies that includes three main elements:
Technologies and equipment
Abrasive media, wear resistant consumable parts and know-how
Maintenance and customer service
These three elements are combined in an optimum way, using data and know-how from over 100,000 tests.
Our 3-in-1 philosophy is applied to Sinto's products and services as a whole to provide customers with the best solutions for all of their manufacturing needs.
Corporate Philosophy "HEART"
Technology recognized worldwide, results from using that technology, and trust through those results. The spirit of HEART has created ties of trust between people and advanced the sophistication of technologies. This is the mindset of manufacturing and the strong belief that have encouraged the development of Sinto. It is characterized by sharing the joy of creating, not only among the people of Sinto, but together with our customers. Through this, we strengthen the relationship of "Co-Creation" with our customers. With these thoughts in mind, we continue to stand by our customers and support their global manufacturing endeavors.