Debbie Eckmeter Awarded with the Yuzuru Nagai Award by Sintokogio
Sinto America is proud to recognize that Debbie Eckmeter,  Sinto America VP of Manufacturing, Aftermarket Parts and Service,  was awarded with the Yuzuru Nagai Award by Sintokogio. This award, is the second most prestigious award after the Nagai Award that Sintokogio gives out, and can be given to any employee among the Sinto Group.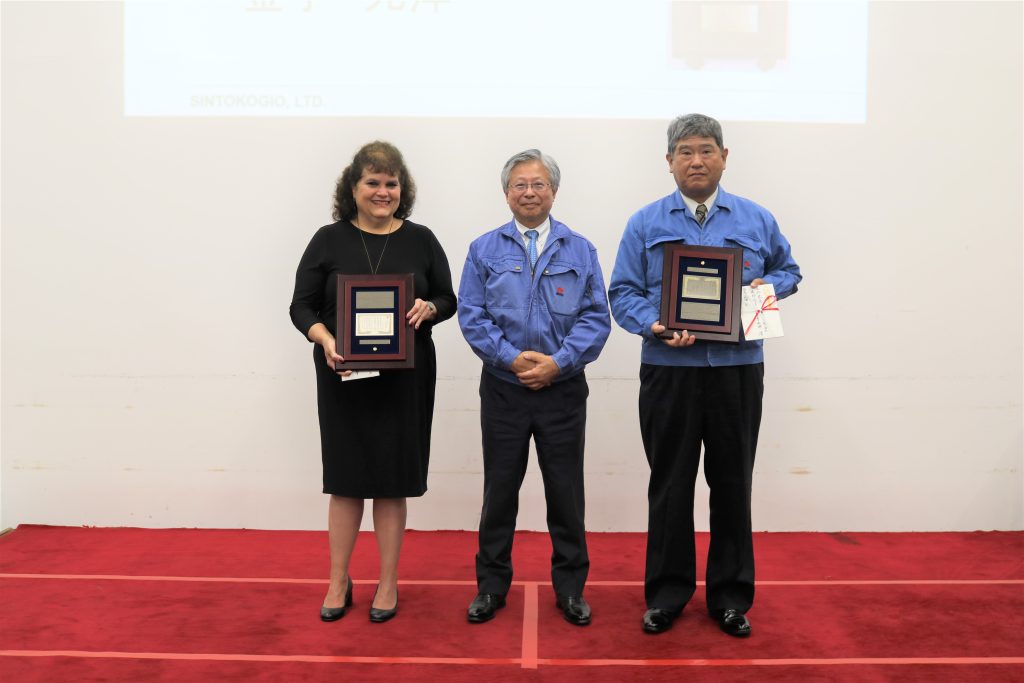 Debbie was able to travel to Japan to receive the award during Sintokogio's anniversary ceremony on the morning of October 2, 2023. Atsushi Nagai, President of Sintokogio, commented this when presenting Debbie the award, "You have demonstrated a strong sense of mission and management ability in various roles in production control and aftermarket service. You were instrumental in implementing new production management systems, contributing to the development of the company's operations. You also provide prompt service that exceeds customer expectations, earning trust both within and outside the company, and your sense of responsibility is a role model for all employees."
Debbie has been with Sinto since 1977 and over the years has contributed greatly to the development of Roberts Sinto Corporation. She began as a clerk/typist in Commercial Purchasing and Inventory Control for LaSalle Machine Tool, Inc. She remained with the company as they became Shalco Systems, Roberts Corporation and finally Roberts Sinto Corporation. Her career shows continuous progression from an entry level employee through many different roles with increasing levels of responsibility to Vice President level, leading a major part of the company. Below is a list of her positions over the years.
1979 Typist in Corporate Tooling and Service Parts
1984 Junior Buyer
1986 Buyer
1989 Assistant Manager of Replacement Parts
1990 Buyer for Replacement Parts and Purchasing
1992 Supervisor of Replacement parts
1997 Warehouse and Inventory Manager
2000 Manager of the Warehouse and Information Center
2002 Manufacturing Manager
2012 VP of Manufacturing
2014 VP of Materials
2017 VP of Aftermarket Parts and Service
2021 VP of Manufacturing and Service
Throughout Debbie's career, she consistently took advantage of Employee Education Assistance programs as she progressed with each company and job title, taking classes like:
Principles of Purchasing
MS Office courses
Intro to Manufacturing Systems
Intro to JIT/Synchronous Manufacturing
Master Production Planning
There have been many highlights over Debbie's career, one being how instrumental she was in the implementation of the ERP system Symix in 1995 and later Syteline in 2021. Debbie commented, "I would like to thank everyone who has made this honor possible.  I am very grateful and would not be where I am today, without the support of the wonderful team I have worked with over the years.
A successful team beats with one heart and I believe we are all part of the heart that leads Sinto to success."
When asked about Debbie's dedication to the company and passion for her job, Michael Halsband (CEO, Sinto America), stated, "There are several letters from customers regarding Debbie's commitment to customer service and going "above and beyond" to complete projects for customers, react with urgency and communicate well. Debbie has always put the needs of the company above her own. She exemplifies the highest level of credibility and dependability and has built strong relationships and friendships with employees, customers and suppliers of RSC."
Sinto is very proud to have Debbie as part of the team. Thank you, Debbie, for your hard work and dedication to Sinto over your career. Congratulations on receiving the Yuzuru Nagai Award!