Automation Robotic Systems
Sinto can provide a turnkey package for certain applications by offering fully custom and integrated automation robotic systems, machine loading & unloading utilizing robotics. We have the ability to program and integrate a multitude of robot manufacturers. We work closely with your engineers to design the right end of arm tooling the first time. Whether your requirements are loading to a part fixture or populating a spinner hanger, we can accommodate your needs.
AUTOMATION ROBOTIC SYSTEMS CAPABILITIES:
Complete design, build, install per customer and foundry requirements
Complete 3D design and robotic simulation
Experienced in aluminum robotic pour and extraction
Foundry Material Handling & Automation
Robotic vision system cells to automatically load and unload Barinder auto grinders
Robotic grinding and finishing cells
Surface Treatment Automation and Conveyors

Sinto also offers Automatic BARINDER® Loading and Unloading. Click here to learn more.
Check out Sinto America's Vision Based Robotic BARINDER® Load/Unload System! The BARINDER® is the industry leading automatic grinding machine.  It is easy to learn, program and operate for the removal of gates, burrs, and parting line fins on aluminum, brass, steel, gray and ductile iron castings. Sinto has taken this a step further by incorporating robotic vision systems that enhances production and lowers operator fatigue and injury  by automating the loading and unloading of the BARINDER® .
Applications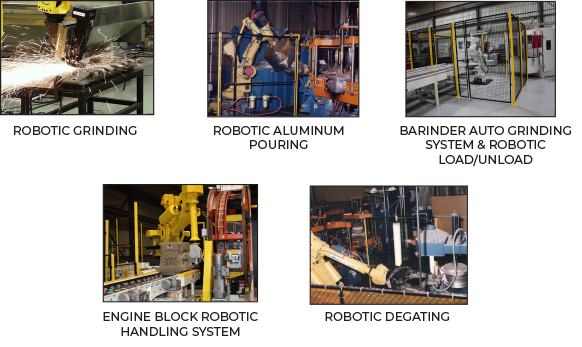 Videos
Vision Based Robotic BARINDER® Load/Unload System:
Case Studies and Testimonials
Click on the links below to see recent automation projects.
Purdue University– Foundry Automation, Sinto Analytics and Foundry Engineering & Consulting Services