AFS CastExpo 2022 Wrap Up
April 28 Grand Ledge, MI
Sinto America exhibited at the AFS CastExpo & MetalCasting Congress, April 23-26th, at the Greater Columbus Convention Center, in Columbus, Ohio. CastExpo is North America's largest metalcasting trade show and industry event. Sinto featured their latest product developments in Sinto Smart Foundry and foundry automation. Sinto America had a 40' x 50' booth at the show, displaying a FDNX flaskless molding machine, a 455 BARINDER® Grinder, a DST-II Digital Sand Tester and a model remote monitoring center for Sinto Smart Foundry. There was also a spot featuring surface treatment and cut wire abrasives, including the newest product development, Frohn Rapid Blast.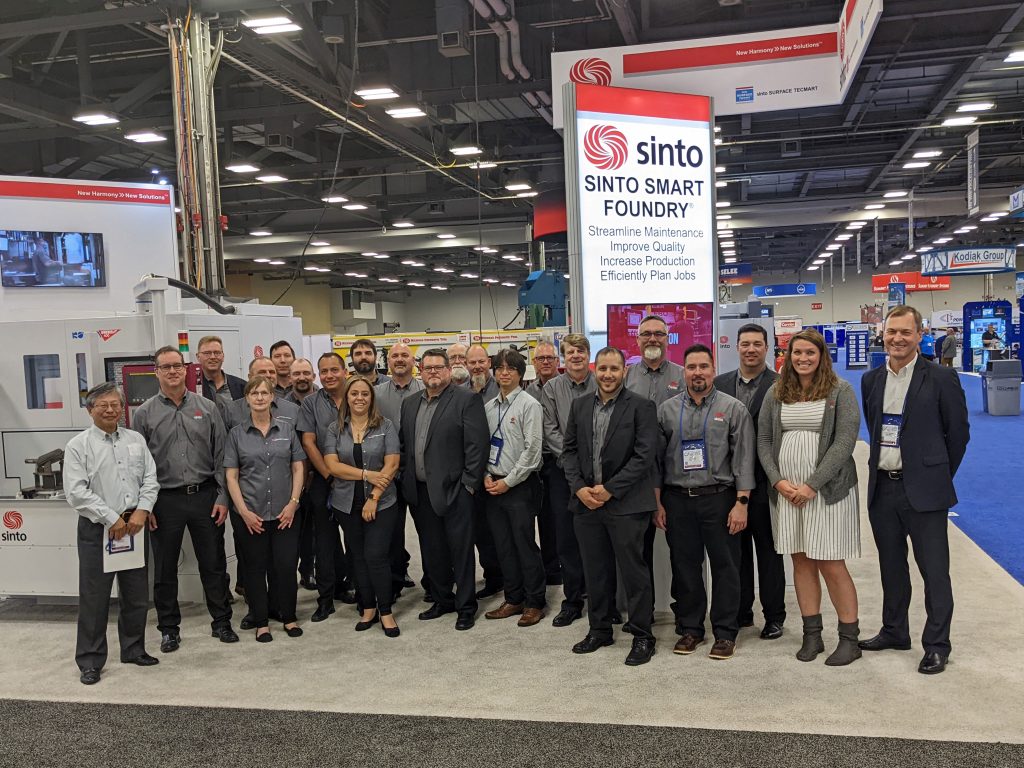 Sinto's booth location, right on the corner of the main two cross aisles, allowed almost everyone who attended the show to not only view Sinto's booth when entering the show floor but also retain attendees walking back and forth throughout the show. This prime location allowed for additional contact with attendees, increasing show presence and quality booth traffic. The booth design this year allowed for an open floor plan, with three 12' backlit kiosks and two 8' backlit kiosks, all having monitors on them playing product video loops throughout the entire show. The booth also featured a 16' triangle structure in the corner that allowed for additional marketing, as well as back wall for two meeting rooms. In total, there were nine monitors in the booth for customers to view product videos. Along with the tall kiosks, Sinto had a hanging ceiling sign, allowing people to see the Sinto brand from the opposite side of the show.
Sinto Smart Foundry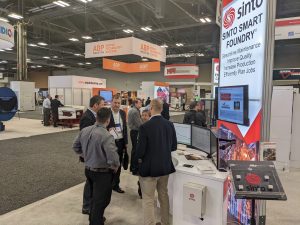 One of the 16' kiosks at the show featured Sinto Smart Foundry, where a model remote monitoring center was set up, streaming ePVS, live industry 4.0 data from our customer's machines and the molding machine and Barinder on the show floor. Show attendees were able to see how practical this software can be in the areas of maintenance, quality, production and planning. To help promote the importance of industry 4.0 in foundries today, Jim Wenson, Sinto Smart Foundry Product Manager, was able to present "Easing the Labor Crunch through Industry 4.0" at one of the technical sessions.
Automated Grinding & Molding
Another highlight at the show the Sinto wanted to focus on was automated grinding. With foundries' high-capacity, labor, and downtime challenges, Sinto wanted to drive the point home that now is the time to automate your foundry. Sinto had the 455 BARINDER® Grinder running at the show, using a customer's parts for display. Customers were able to see how easy it is to learn, program and operate for the removal of gates, burrs and parting line fins on castings.
As well as displaying automated grinding, Sinto featured the FDNX flaskless molding machine, which is one of many machines Sinto offers in this product line. The FDNX flaskless molding machine is a great solution to jump from manual molding to automated molding. Although, not being on display, Sinto highlighted the FCMX molding machine in the video loop.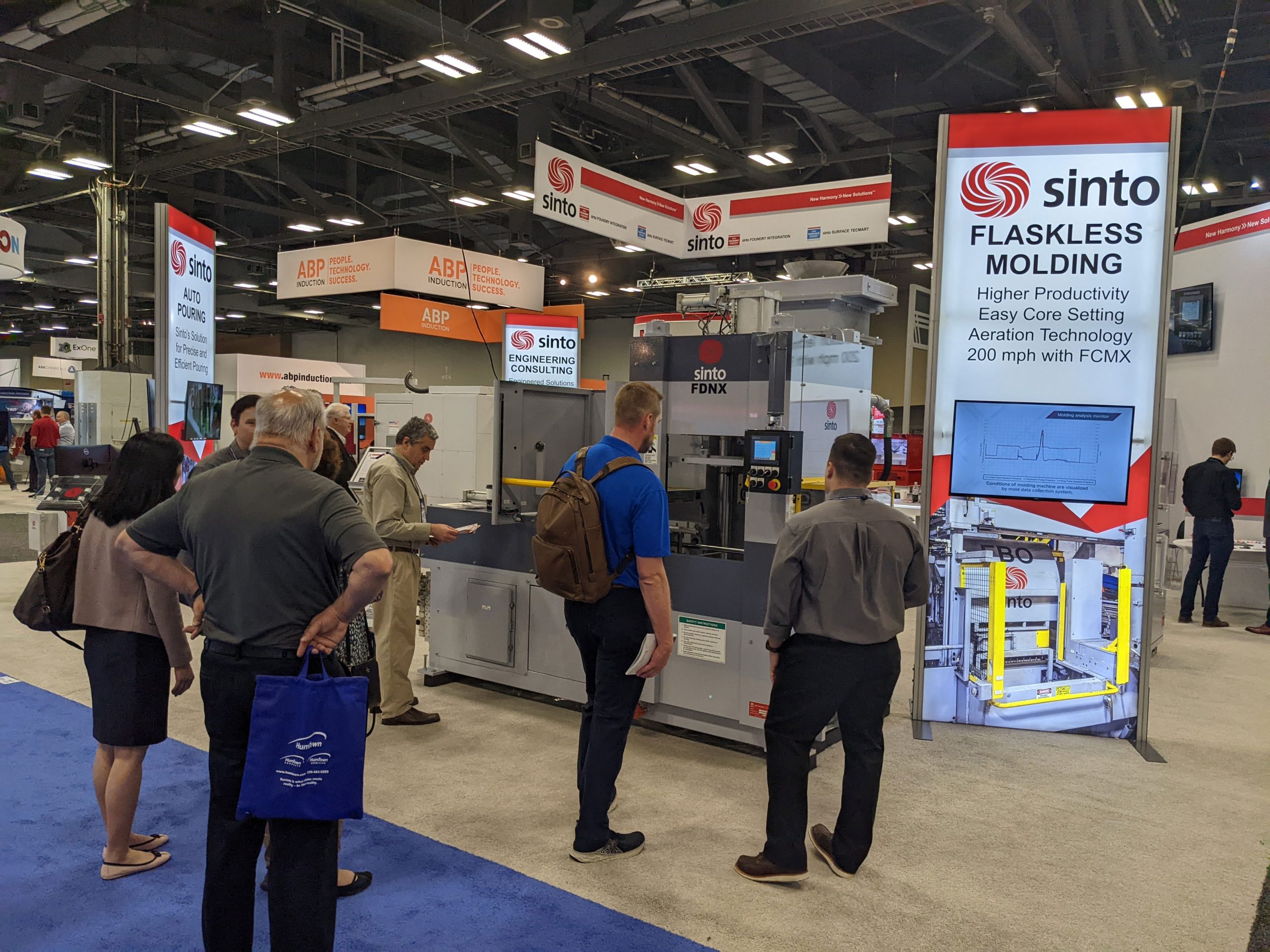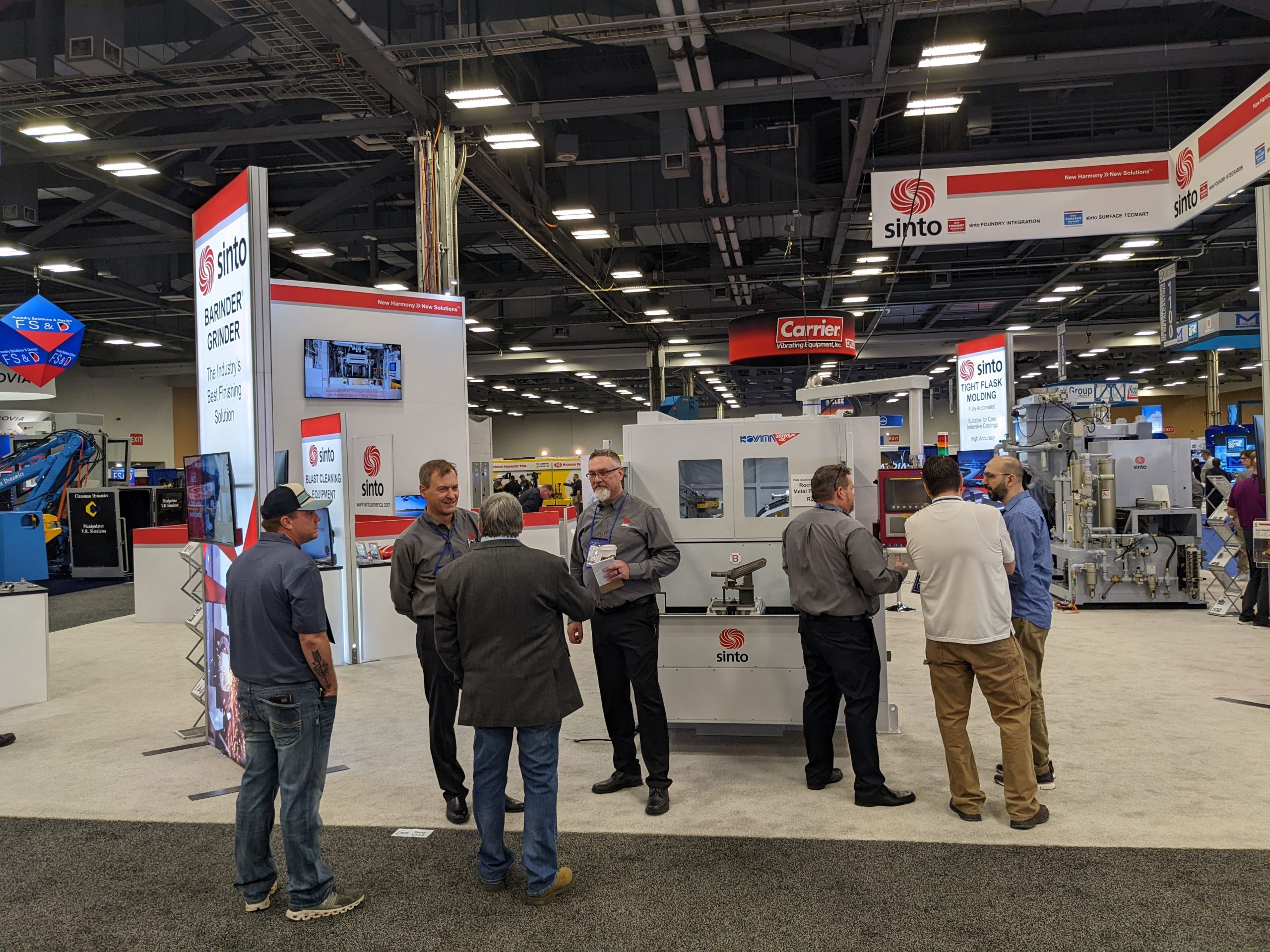 In Line Sand Testing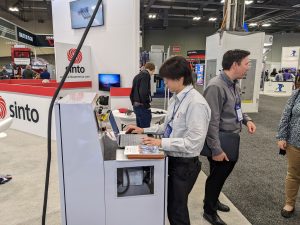 New to the booth this year was the DST-II In Line Sand Testing Unit. Sinto wanted foundry customers to see how the DST-II can be a sand testing solution that can be implemented into a foundry at a reasonable cost. Attendees of the show were able to see the highlighted features of the machine such as: self-calibration function and repeatable accurate readings. Accurate greensand testing provides foundries with immediate ROI for a small investment.
Frohn Rapid Blast
Along with displaying video clips and literature on shot blasting equipment such as the CNDR, KSB, Y30 and WE3, Sinto had the latest product development from Frohn North America on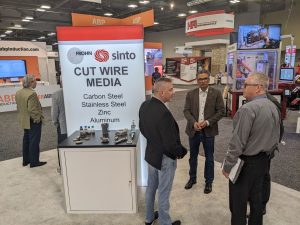 display, Rapid Blast.  Rapid Blast is a cast shot and cut-wire blend in proprietary ratio that is designed to reduce abrasive consumption by as much as 40% and increase blast cleaning efficiency. This new abrasive allows for savings in energy, labor, maintenance, wear parts and freight. This was one of the first times this product has been presented to the metalcasting industry.
2020 William J. Grede Award & FLM Scholarship
Due to Covid-19 canceling in person events for the last two years, AFS CastExpo presented Atsushi Nagai as the 2020 William J. Grede award winner at the Annual AFS Reception and Banquet. This award goes to someone who has had "major contributions in the fields of management, marketing or education which have resulted in expanding the effective use of metal castings." Also at the Annual AFS Reception and Banquet, Atsushi Nagai presented a $100,000 scholarship endowment that Sintokogio is sponsoring. This scholarship was presented to the AFS Future Leaders of Metalcasting Education Fund.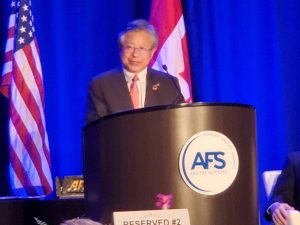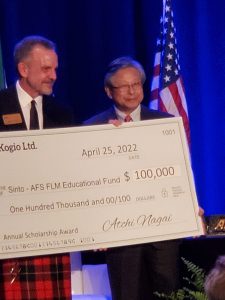 Summary
CastExpo 2022 not only brought everyone together for the first time since 2020, it also was the start of new board of directors joining the American Foundry Society. Michael Halsband, President and CEO of Roberts Sinto Corporation, officially started his four year term and position on the Board of Directors with the American Foundry Society. The AFS CastExpo & Metalcasting Congress 2022 was a great success for Sinto America. With around twenty Sinto employees at the show, every customer visiting at the booth had a foundry expert to discuss their casting applications with. This was one of the first, largescale, in person events since Covid-19 closed tradeshows, and the turnout of the show was great. Sinto was able to meet with many current customers on future projects and also discuss the latest technologies and products with various customers that could lead to potential new, long-term customers and sales. Sinto is looking forward to CastExpo 2025 in Atlanta, Georgia.