Coming Soon, the Smallest, Lightest Servo Cylinder in the Industry
Grand Ledge, MI – May 28, 2020
Sinto America is excited to announce the newest addition to its product line, the CYAP-CA Series. The smallest, lightest Servo Cylinders in the industry.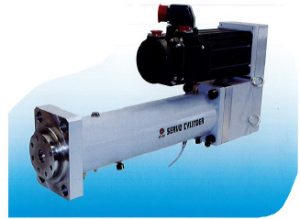 One of the biggest benefits of these Servo Cylinders is precision control. Sinto's Servo Cylinders will allow for high-performance load and position control using Sinto's SCUB servo controller. Easy operation can also be set with a simple program using commands dedicated to the press-fitting process!
"With over 10,000 units in operation throughout the world, Sinto America is excited to bring the world-class, cost-competitive Sinto Servo Cylinder to the North American market." – Mike Fredbloom, Sales Director Roberts-Sinto/Sys-T-Mation.
SERVO CYLINDER FEATURES:
Simple installation into customer's equipment due to compact size and lighter weight.
Original load detection system is used to reduce the overall servo cylinder length
Ethernet IP or device net communication
Standard stroke length of 200 mm (Optional 100mm, 300mm, 400mm)
Pressure range from 10kN to 200 kN
Optional touch panel with graphs that can be displayed using the waveform display function
Optional data recording function: press-fit position and load data can be recorded on a personal computer or memory card, ensuring quality traceability
Want to know more about Sinto's Servo Cylinders?