CNDR Drum Blast
Drum blast machines by Sinto Surface Treatment allow for faster, safer and cleaner finishing.  The CNDR features smooth load/unload capabilities, highly efficient finishing due to drum oscillation during the blast cycle, and a zero pinch design, eliminating jams that occur in a conventional mill. The CNDR ranges from 14 ft3 to 35 ft3 with a load capacity range from 330 lb. to 7500 lb. The drum blast machines use Sinto's Y-30 direct-drive wheel. In the foundry industry, the drum shot blasting machine has a 99.75% removal of contaminate on first pass and can remove 8% of sand contaminates by weight.
Sinto America's Drum Blasting designs are engineered specifically for parts that have previously been hard to clean by blasting in the traditional style of tumble blast machine designs.The CNDR models are capable of cleaning a broader range of castings, and by virtue of their design, require significantly lower maintenance than conventional tumble-type blast machines that result in significant savings.
DRUM BLAST FEATURES:
Consistent and highly efficient
Drum oscillates while processing, reducing cycle time over conventional drum styles
Zero pinch design eliminates part jams
No leak design improves safety environment
Smooth, reliable loading with the hydraulic loader
Reduced maintenance vs tumble blast
WE-3 Air-Wash Separator: High efficiency reverse flow technology
Reduced part damage vs tumble blast
100% manganese process drum with an increased working life
99.75% removal of contaminate on first pass
Removes 8% of sand contaminates by weight
Options include: Heavy Duty (HD) version, dust collector/ducting, conveyor, auto shot adder, maintenance platform/ladder, weight scale and more
WEIGHT SCALE OPTION:
Functions as a part counter or weight meter under the bucket loader
When the part count or weight reaches the desired capacity, the weight scale signals the bucket loader to discharge its content into the blast machine
After the bucket loader returns to the home position, the scale resets to zero
When used in combination with a continuous feed system such as a conveyor that is off loading into the bucket loader, it allows a batch style machine to function in a continuous mode of automatically loading multiple batches of parts, therefore eliminating the need for an operator to start the machine for each batch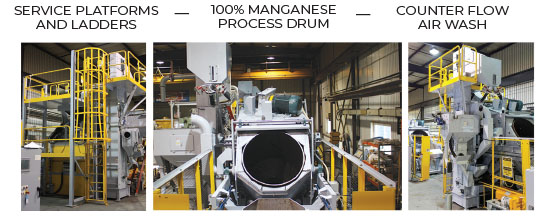 Sinto also offers a smaller drum blast machine, the CNDX.
Specifications
Machine Description

CNDR-6
CNDR-14
CNDR-22
CNDR-35
Max. Charge Wt.

600 lb./load
(272.15 kg/load)
1750 lb./load
(794 kg/load)

2650 lb./load
(1202 kg/load)

7500 lb./load
(3402 kg/load)

HD Version- Max Charge Wt.

n/a
3,000 lb./load
1361 kg./load
(CNDR-14HD)*


3,500 lb./load
1587.5 kg./load
(CNDR-22HD)*

n/a

Max. Charge Vol. (cu.ft/load)

6
14
22
35
Max. Part Dimension

12 in (304.8 mm)
16 in. (406 mm)


22 in. (559 mm)

26 in. (660 mm)

Max Part Weight

22 lbs (9.98 kg)
80 lbs (36 kg)


90 lbs (41 kg)

150 lbs (68 kg)

HD version- Max Part Weight

n/a
120 lbs (54 kg)
(CNDR-14HD)*


130 lbs (59 kg)
(CNDR-22HD)*

n/a

Width ( A )

9'2" (2794mm)
13'6" (4,115mm)


15'9" (4,801mm)

25'4" (7,671mm)

Depth ( B )

10' (3048mm)
20'4" (6,198mm)

21'4" (6,502mm)

29'9" (9,068mm)

HD Version- Depth ( B )

n/a
20'4" (6,198mm) (CNDR-14HD)*


24'8" (7,518mm) (CNDR-22HD)*

n/a

Height ( C )

11'2" (3403.6mm)
17'7" (5,359mm)


19'5" (5,918mm)

25'10" (7,874mm)

Work Discharge Height ( D )

1'8" (508mm)
2'10" (864mm)

3'2" (965mm)

4'2" (1,270mm)

Number of Wheels

1
1

1
1
Wheel Size (hp)

20
40

60
75
Model/Type

Y-30
Y-30

Y-30

S-200

Max. Part Temp at Inlet (F)

150° F (65.5° C)
150° F (65.5° C)

150° F (65.5° C)

150° F (65.5° C)

Loading Method

150° F (65.5° C)
Bucket

Bucket
Bucket
Videos
CNDR Drum Blast:
CNDR Drum Blast Machine Weight Scale Option:
Request More Info
Please fill out the form below if you would like to be sent more information