DZB Spinner Hanger System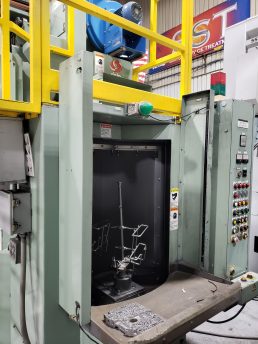 View Gallery >
Item Number: BLAST-0050-00 / RS3677
BACKGROUND:
Machine has been in Sinto America's Surface Treatment Test Center to use to test parts for customers
SPECIFICATIONS:
Condition:  Used – In operating condition. Inspection and all needed mechanical repairs performed
Year of Manufacture: December 2014
AVAILABILITY:
Specs
Machine Description
DZB-2MT
Blasting area

"Ø 16"" x 24"" H /jig (Max)
Ø 400mm x 600mm H /jig (Max)"

Weight of work piece (including jig)

"44 lbs/jig (Max)
20 kg/jig (Max)"

Motor capacity

"7.5 hp (2 units)
5.5kW x 4P (2 units)"

Size of workpiece

"Dia. 6"" x 8"" L(Max)
Dia. 150 x L 200 (Max)"

Number of hangers

2

Type

Cartridge filter

Video
Request More Info
Please fill out the form below if you would like someone to contact you.