In-Line Digital Sand Testing
Sinto's In-Line Sand Testing (IDST) can measure sand properties immediately before the molding machine:
▶ Compressive strength
▶ Moisture
▶ Permeability
▶ Sand temperature
▶ Active clay (calculated value)
ADVANTAGES OF IDST:
In a green sand molding line, due to distance between the mixing process and molding process, sand properties differ between that at the mixer and that actually used at the molding machine.  This difference is caused by the sand transportation system design, climate, etc.  As a better sand control method for improving casting quality, IDST allows control of sand properties right before molding machine, allowing easier tracing of molding sand than in the past.
FEATURES:
Can be integrated with existing online muller controls to minimize sand variability between the muller and the molding machine
Eliminates the need for operator muller compactability adjustment due to changing sand and environmental conditions
Acquired data can be exported for display on production monitoring systems such as Sinto Analytics
Graphs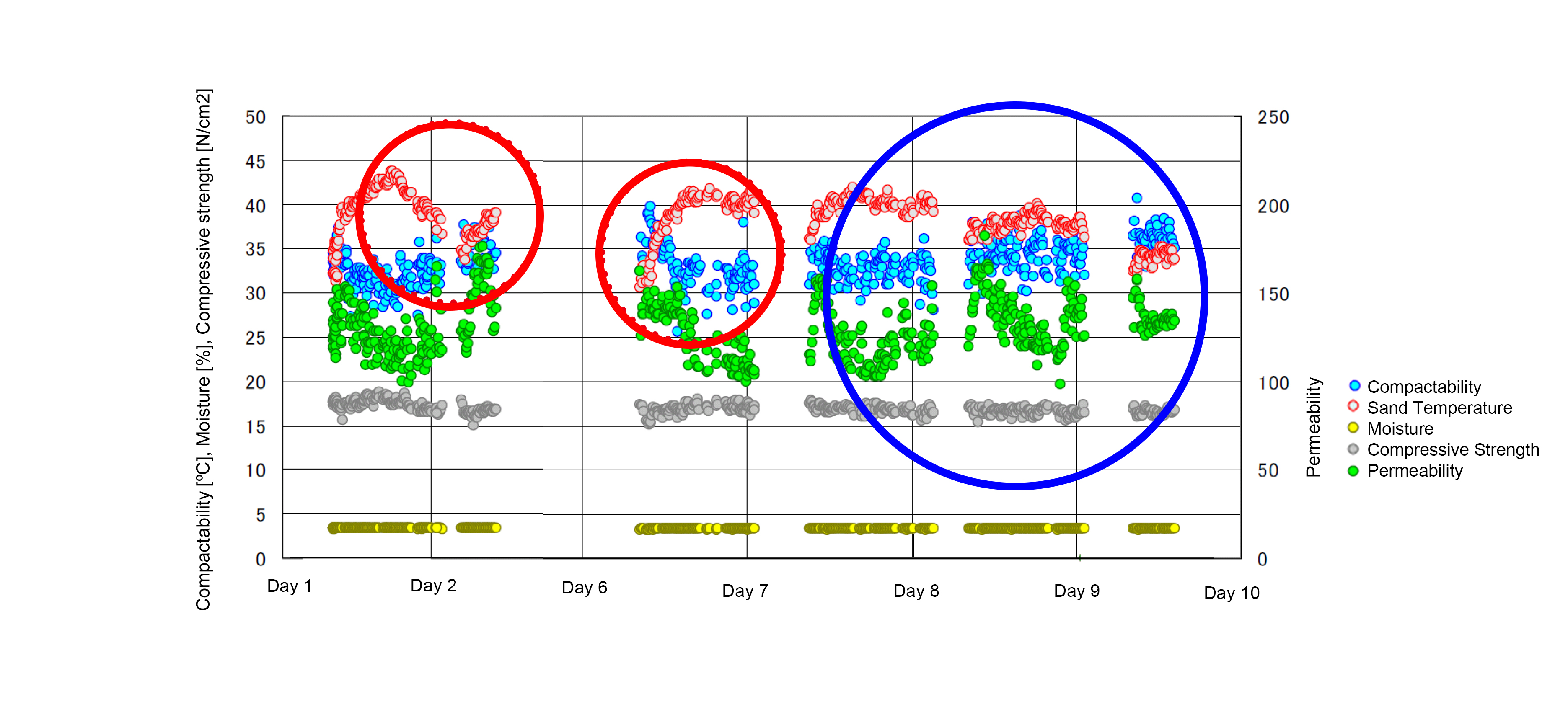 The measured compactability at the molding machine decreases through evaporation as the foundry sand and environmental temperature and relative humidity changes
By incorporating the IDST's in-line real time measurement with existing muller compactability controls, a more stable compactability can be achieved at the molding machine.
Specs
Primary Power Supply
220V x 60Hz, AC100V, 3 phase

Transformer required if primary is 480V


Compressed Air
0.51-0.59 Mpa

Combined Approx. Weight

600Kg

Belt Conveyor Requirements

Speed
Approx. 2FPS

Running Time
Greater than 4 seconds

No Sand Lump
(Φ0.8in and under)

SAND PROPERTIES:
Compactability: 25%~55% range
No sand lump (Φ0.8in and under)
Fluctuation sand layer height (Within ±0.4 in)
Sand Depth on Belt Conveyor required is 4.25"