DST-II Digital Automatic Green Sand Properties Measuring Unit
This green sand unit allows the user to take readings of the sand make up at any point in the system; this is largely because the DST-II is a portable green sand testing unit.  Unlike the fixed sand testing systems that are located in one place, the DST-II can be utilized anywhere.
GREEN SAND PROPERTIES MEASURING UNIT FEATURES:
Self-Calibration function
Repeatable accurate readings
Can be interfaced with the muller controls to adjust for variability between muller and molding machine
A load cell is used to is used to conform test sample height which eliminates variance introduced by manually sampling, resulting in highly accurate results
Measurement data can be exported via USB allowing for easy data transfer for your quality database.
20,000 pieces of data can be stored in the DST-II
Data can be exported via USB to PC as excel spreadsheet
MEASURES (IN 90 SECONDS):
Temperature
Moisture
Compactability
G.C.S.
Permeability
Place the DST-II beside mixers, beside molding machine or in the sand laboratory!
Various Display Modes: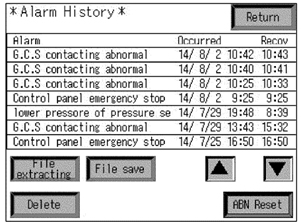 View the In-Line Digital Sand Testing Unit! The In-Line DST has the same function of the DST-II. Automatic sampling from the sand feeder to the molding machine enables real time data acquisition and monitoring!
Specifications
| Temperature | 0 ~ 50°C |
| --- | --- |
| Moisture | 2.5 ~ 4.5% |
| Compactability | 0 ~ 55 % |
| Green Compressive Strength | 5 ~ 30 N/cm2 |
| Permeability | 31 ~ 400 |
Advantages of the DST-II
Substitutes multiple sand testers in laboratory
Easy Operation
Reduces time for quality sand control
Increase frequency of measurement contributing to more precious control of sand properties
Save labor time for measurement
Automatic data collection
Video