AFS TO HONOR ATSUSHI NAGAI WITH 2020 GREDE AWARD
August 12, 2021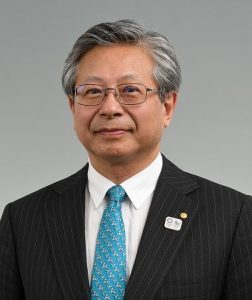 The American Foundry Society announced that Atsushi Nagai will receive the 2020 William J. Grede Award. This award honors major contributions in the fields of management, marketing, or education which have expanded the effective use of metal castings.
Mr. Nagai is president of Sintokogio, Ltd. (Nagoya, Japan). He started his career at this worldwide industry supplier in 1984 and has served as president since 2006. Under his leadership, Sintokogio has developed new technologies to make foundries more competitive, productive, and better able to meet increasing customer demands.  Mr. Nagai has devoted tremendous energy to attracting and developing the next generation of leaders in our industry, and was one of the primary organizers for the Young Professionals Summits that have been held in Japan in 2016, Germany in 2017 and North America in 2019.
Mr. Nagai is an active member of AFS and has shared his insights into the global metalcasting industry as a presenter at the Foundry Leadership Summit. He will be honored during the awards banquet at the 2021 Metalcasting Congress in Milwaukee, Wisconsin.
The American Foundry Society is a dynamic technical and advocacy organization that serves and represents the $44  billion metalcasting industry. AFS is the only association serving the entire industry, including all metals and processes, with a three-part focus on advocacy, education, and innovation. AFS also publishes Modern Casting and Casting Source magazines and presents Metalcasting Congress and CastExpo, the largest metalcasting trade events in North America. Founded in 1896, the organization is based in Schaumburg, Illinois, with an advocacy office in Washington, D.C. More information is available at afsinc.org.