Articulos Metalicos de Cadereyta, S.A. de C.V. discusses the benefits of using Sinto Flaskless Molding Equipment in their facility
February 12, 2018

From food processing to automobile manufacturing, they produce many kinds of castings.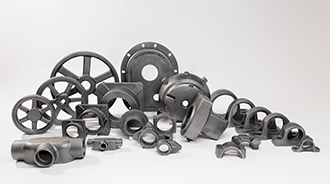 Located in Cadereyta Jiménez, N.L., Mexico, Articulos Metalicos de Cadereyta, S.A. de C.V. Foundry (AMC Foundry) was founded in 1973 by Eliud Gutierrez and Arturo Garza. Putting in sixteen-hour workdays and paying close attention to customer needs, the company was able to double its production every two years. Since the beginning, they have produced industrial gray iron castings; today, under the leadership of the founders' sons, Eliud Gutierrez, Jr. and Arturo Garza, Jr., they continue to produce parts for food processing, agricultural equipment, and automobile manufacturing.
The key to generations of success is preventive maintenance.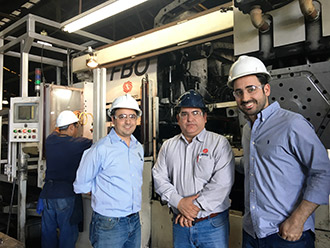 AMC Foundry originally began production with six jolt squeeze machines, but to keep up with the company's growth and customers' demands, automation became necessary. At first, they considered purchasing another company's molding machine, but during a visit to a foundry in the United States, they saw Sinto's automatic molding machine FBS-1, which they loved, purchasing their own in 1995. Thanks to the FBS-1, their productivity doubled, and a year later, they purchased an FBM.
With the FBM-1, they were able to consistently produce high-quality molds with sophisticated shapes, even handling deep pocket jobs. This reduced the time needed for grinding and other finishing processes, and the cosmetic appearance of the castings also improved. Their greatest achievement from using the new automated molding process was the consistency in quality, from a few parts to large volumes. They also purchased a new sand system and invested in a quality lab. In doing so, AMC Foundry has been able to respond to their customers' latest quality requirements, putting quality as their first priority.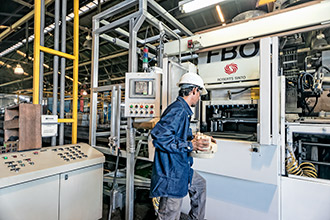 Highly satisfied with these results, they later went on to purchase an FBO-Ⅱ and FBO-Ⅲ, continuing to purchase Sinto machines to expand production. "The key to our success is preventative maintenance," states Eliud Gutierrez, Jr. "A Sinto technician visits twice a year and replaces worn parts in a timely manner, which is of great help."
Working toward even greater production capacity.
Now, with third-generation leadership Andres Gutierrez and Arturo Garza III also involved in operations, AMC Foundry is working toward even greater production capacity by continuing to grow their melting department. When the expansion was completed, they replaced an old molding machine with Sinto's FDNX. They are also considering the addition of new Sinto machines in the future.
For more, check out the Global Sinto Network site and AMC's full testimonial here