Century Foundry Utilizes Automation for Future Success
June 1, 2021
Century Foundry, a third generation, family owned, aluminum-casting supplier has been excelling in metal casting since 1976. Located in Muskegon Heights, Michigan, they offer a single-source responsibility for aluminum casting, machining, heat treat, painting and other selective out-sourcing options to provide small, medium and large sized castings serving over 100 customers of many markets across North America.
Going back to 1937, Century Foundry was previously known as LeRoux Foundry, owned by Napoleon and Fred LeRoux. In the last 1960's, LeRoux Foundry began producing both iron and aluminum castings and business was so well they could continue production of both metals under the same roof. In 1976, the aluminum casting division was sold to family members Bill and his wife Sue, which they named Century Foundry.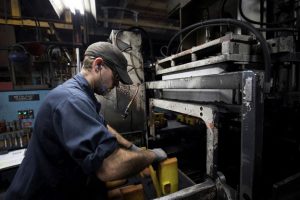 Over the years, Century Foundry grew and the family saw a future with more automation. In September of 1997, Century purchased a FBO Sinto automated flaskless molding machine and an automated sand system. As business continued to grow, Century expanded their production floor to 38,000 sq. ft. By the time 2014 came around, Century acquired a third facility, making their total production area of 77,000 s. ft., with 65+ employees. The new facility holds a permanent mold operation, heat treat oven and machining operations.
"Working in family business certainly has its ups and downs, but there is a deep pride I have coming to work every day knowing we're all working together to keep a business moving that my family has built. That pride is what drives me everyday to work hard, build relationships with employees and ensure everyone is working in the best possible environment."-Shane LeRoux, VP of Operations, Century Foundry.
CASTING TECHNOLOGY INVESTMENT
Casting technology has been developed from prehistoric times. Sand castings have been produced for at least the last several thousand years. Aluminum castings have only been produced during the last 200 years since aluminum was isolated Aluminum has only been generally available for any serious industrial use since the 1880's, and Century Foundry has been actively product high quality aluminum castings for one third of the time since then. Century Foundry uses the very well-known green sand processes using both Sinto automated machinery and manual Roto-lifts as well as the more modern no-bake air set and permanent mold processes.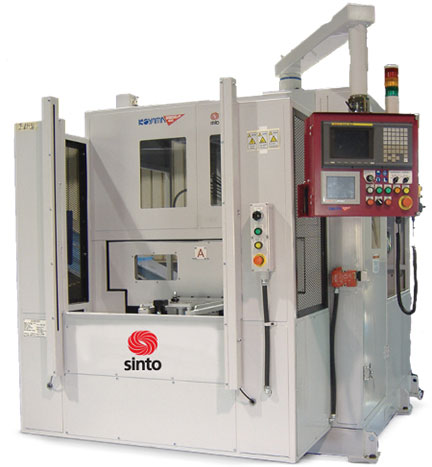 In March 2021, Sinto America completed the installation of the X7i-CDH22R-455MR-C Barinder Grinder for Century Foundry, at their manufacturing facility in Muskegon Heights, Michigan.
With this project, Century was looking to achieve more consistency on the finishing end of the casting product. When asked why they went with Sinto equipment, Shane stated, "Along with the consistency of this machine, we really enjoy how easy the machine is to use. We are also impressed with the Barinder providing a life time of sound performance and quality products."
On the first casting application that Century utilized the Barinder for, manual processing time was 10 minutes and 18 seconds on average. This included the belt grind and a bench operation for intricate details. Utilizing the Barinder, the cycle time on the same application, with minimal touch up was 1 minute and 8 seconds. This cuts the cycle time over 8 minutes, allowing for a shortened ROI for the Barinder.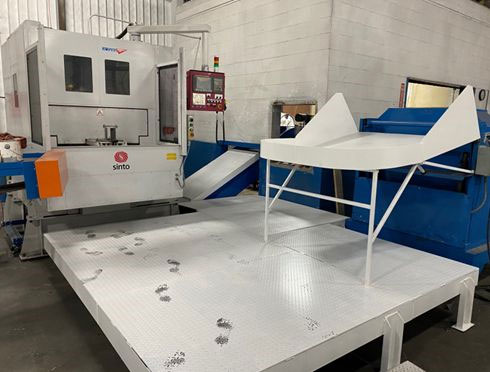 "This machine was a large investment for Century, but after just two months in production we're already seeing an increase in throughput and consistency. We're building multiple fixtures currently to continue the increase in production numbers."-Shane LeRoux.
The X7i-CDH22R-455MR-C Barinder Grinder that Century recently purchased is an automatic cutting machine for gate and parting line flash removal on small to medium size aluminum castings. It is suitable for finishing inside and outside of complex castings. With this machine, you can quickly change out the fixtures, programs and tools in less than five minutes. Simple programming and operations results in maximum uptime, and long lasting tools save operating costs and reduces dust generation. There is a two or four position servo pallet changer and a rotating main chip saw with pivoting end mill tool. Need options? Sinto offers a chip conveyor, mist lubricator for the main cutting wheel and a floor chute air blow off. This high speed and efficient processing enables productivity and a high finish quality.
Along with the Barinder Grinder, Century has Sinto's FBO-III Flaskless Molding Machine. One of the first automated pieces of equipment that Century purchased, this machine has been running successfully for 24 years. Century was looking for a machine that would allow them to produce larger volumes of aluminum castings. The FBO-III was a perfect fit.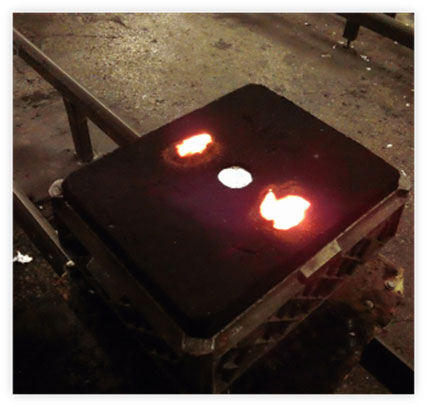 "In September of 1997 we added our FBO III molding machine. This machine was brought in to dramatically increase production and bring our foundry to the next level. We went from producing 10 molds per hour on a roto lift to producing 60+ molds an hour. This is a high-quality machine that has proven longevity. As of 5/1/21 we have 5.1 million molds made off of this machine. We have Sinto in every 6 months for PM and the machine is still in great shape!"- Shane LeRoux.
The FBO Flaskless Molding Machine offers a wide variety of mold dimensions to the foundry industry and are widely used within the industry. If you are looking for the best way to reduce scrap in a foundry, the FBO is the solution. The robust design provides the confidence and longevity that a foundry expects in a molding machine. The design of the FBO molding machine has safeguards against eh shifting of molds. The FBO also has the ability to vary the molding height, which effectively adapts the mold size to the various pattern profiles, and allows for the most efficient use of sand. Sinto offers multiple options with this machine, all based on what the customer needs.
FBO Flaskless Molding Machine Options: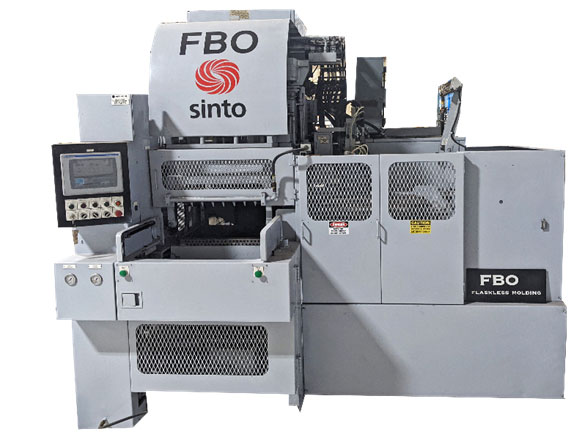 Aeration
Chaplet
Set Safety Light Curtain
Pattern Heater & Vibrator
Central Lube
Sinto Industry 4.0 Analytics (remote service option)
Ewan Remote Connectivity
Air Cooled Hydraulics
Non-Standard Pattern Heights
Plate Adapters
With the automated molding and automated grinding technology that Century has invested in over the years, paired with a highly experienced production team, Century can prepare customer designs for production and market with agility and speed. "When the molding machine was brought in, we were able to cut lead times in half. With lead times cut in half and the quality of product the FBO produces, we immediately became more of a player for higher volume work." – Shane LeRoux.
QUALITY
Century Foundry prides itself on making quality castings. From the smallest order, to the largest order, Century aims for perfection when it comes to castings. Century Foundry is very proud to be a fully ISO 9001:2015 certified facility. The Quality Management System at Century is in full conformance with the International Systems Standard as a manufacturer of green sand, airset and permanent mold specialty aluminum castings.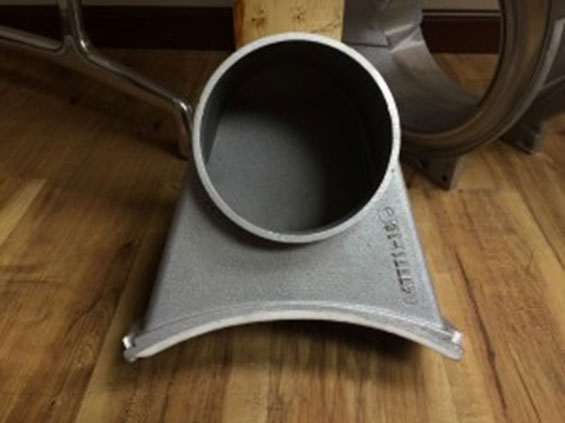 "As qualified labor has proven to be difficult to find, we had issues with consistency, which in turn affects the quality of castings sent to our customers. Quality is our #1 incentive and bringing in this Barinder has proven to bring back this consistency and improving our quality." – Shane LeRoux.
Century is also PED certified. PED, European Pressure Equipment Directive Certified, is a guideline for the design and manufacture of pressure equipment covering pressure vessels, heat exchangers, steam boilers, pipelines, storage tanks, pressure relief devices, valves, regulators and other pressure equipment.
CONCLUSION
Century Foundry started producing aluminum castings during the Bicentennial celebrations of 1976. Since that time, Century has been a committed and integral part of the local Muskegon Heights community where it was built. We believe our West Michigan employees provide the highest skills and expertise you'll find anywhere. Century Foundry is proud to produce aluminum castings in Muskegon Heights, Michigan.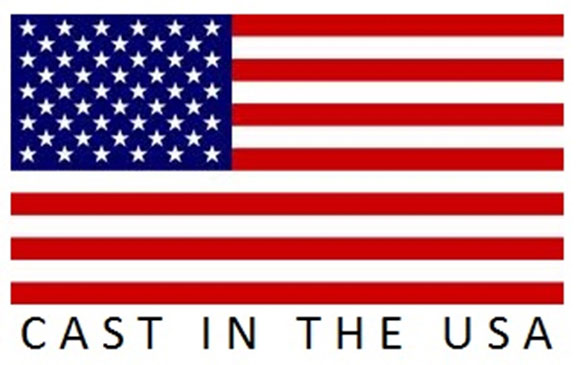 They currently have three manufacturing facilities consisting of a greensand foundry housing an automated molding line and two manual molding lines, a permanent mold foundry and a machine shop, and an airset/job shop with a core room. Century serves a diversified group of non-automotive customers throughout the US and abroad. Century Foundry is proud to produce aluminum castings in Muskegon Heights, Michigan. Learn more about Century Foundry here.
Sinto is thankful for Century's confidence in the equipment, and is excited to see how the Barinder will continue to benefit their foundry in the years to come.
ABOUT Sinto America
Sinto America focuses on six primary markets- Foundry, Sand Processing, Bulk Material Handling, Automation, Surface Technologies and Surface Treatment. Sinto also provides contract blasting and precision shot peening services through our National Peening and Technical Metal Finishing divisions. Learn more at www.sintoamerica.com.
Contact: (517) 371-2460 or sales@sintoamerica.com