Donsco, Inc. Maximizes Auto Grinding Production with BARINDER® Training
August 16, 2021
In July 2021, Sinto was excited to welcome Donsco Inc. to their manufacturing plant, in Grand Ledge, Michigan, to train and maximize their BARINDER® machines to full potential. Sinto's BARINDER® is a high speed, automated grinder that reduces labor costs and finishing time. Donsco's home base is in southeastern Pennsylvania, operating two foundries, which produce various volume runs in short run and longer running gray, ductile and alloyed iron castings, up to 150 pounds in both horizontally and vertically parted molds. Donsco has been in continuous operation for more than 100 years and provides high quality, long lasting castings to a variety of markets such as: agriculture, automotive, heavy equipment and pumps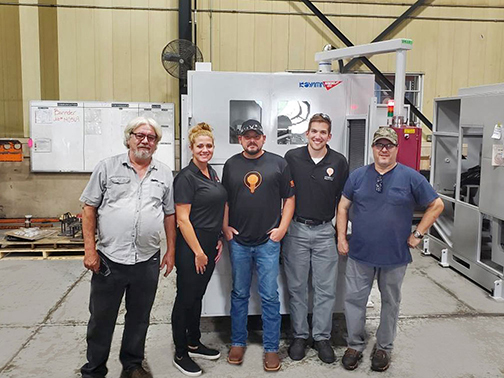 In 2007, Donsco purchased their first BARINDER® unit then each year continued to build up their fleet, with four Barinders currently. Donsco wanted to implement multiple Barinders to reduce grinding time and create an all in one grinding solution. "This machine has allowed us to grind high volume parts with a reduced cycle time and less operator fatigue. For example, before we had to have two grinding operations to eliminate flash and riser contacts but now we can do it all in one step with the Barinder." –Matt Gielarowski, Process Engineer, Donsco, Inc.
With having four Barinders and a recently rearranged layout of the foundry for a more efficient working environment, Donsco wanted to make sure they were getting the full potential out of their machines. At the week Donsco spent at their Barinder training, the team members were able to become more familiar with all the capabilities of the BARINDER® and master how to maximize production on their machines.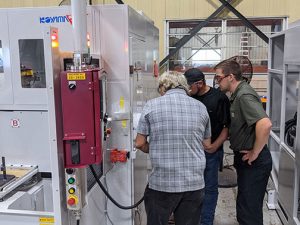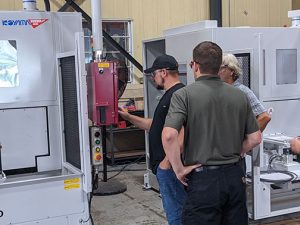 When asked what was one of the most beneficial takeaways from the BARINDER® training, Matt stated, "Having someone in the company that is trained and knowledgeable on the machines doing hands on training with us was invaluable. We also appreciate having the support of Sinto's service technicians to contact when and if problems do arise."
Sinto's BARINDER® Training consists of four days of technical, hands-on training on everything from programming and fixture design to maintenance and program editing.
"I felt the training was very beneficial.  Everyone at Sinto was very welcoming, and the trainers provided us with a specific training plan to meet our needs.  They went above and beyond to ensure we understood the machines and were willing to support us in any capacity to utilize our Barinders to the fullest capacity.  Overall, I would highly recommend this training." – Matt Gielarowski.
When asked what Donsco loves about the BARINDER® for their certain application, Matt commented, "The BARINDER® allows  for more productivity by allowing one operator to produce twice as many parts as a conventional grinding operation and reduces cycle time on complex castings with heavy flash/risers. The BARINDER® is an all in one grinding solution.
Sinto continues to enjoy their partnership with Donsco, Inc.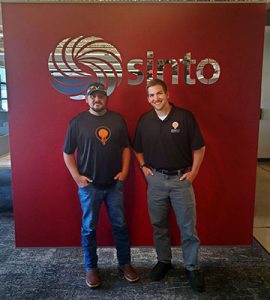 Want to know more about auto grinding??