FARRAR SETS UP FOR GROWTH
October 18, 2022
Thirty-five lost days of iron pouring in 2018 due to power supply issues—that was the final straw for Farrar Corp. (Norwich, Kansas), which had been struggling with a power supply and furnace that hadn't been working well together for years.
"At the end of 2018, it was, 'Okay we need to either build a new foundry or invest in a new melt system, because we're at that point,'" said Scott Case, president and CEO of Farrar. "You can have issues with coremaking and buy cores on the outside. Or you can have issues with grinding and send that work out and bring it back in. But if you can't melt iron, you aren't a foundry. So, Gregg [Farrar, vice president and CFO] and I got together on a proposal for new furnaces and a melt system."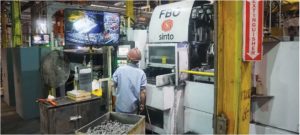 The new melting system supplied by Inductotherm at the Norwich foundry proved to be the start of a series of intentional capital investments over the course of the next four years that would significantly upgrade its efficiencies, quality, and capacity.
"In developing our plan for the new melt system, we talked about our goals as a company to grow," Farrar said. "So that was our first phase of multiple phases, and we do have more future projects that we'd like to do with growth in mind."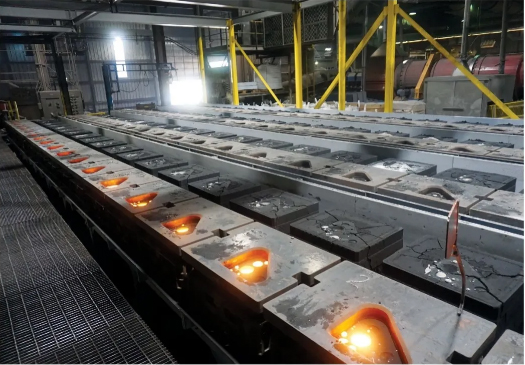 The furnace investment signaled a decision made by the company, which has two locations: (1) the foundry and machining in Norwich, and (2) corporate headquarters, machining, and heat treatment in Manhattan, Kansas.
"Things were really starting to take off in Norwich, so our focus began to be on what we can to do improve things in Norwich and do some investing there," Case said.
Four years later, the foundry boasts a new shakeout system, and a new molding line—in addition to the new melting system installed in 2019. The plant in Norwich also increased capacity for machining by adding new CNC machining centers; a far cry from their roots as a blacksmith shop making repairs for the local farms.
Farrar Corp.'s history is similar to many iron foundries that first served the nearby community before branching out to other industries and capabilities. In 1933, Gregg Farrar's grandfather opened Farrar Corp. to meet the need for ag equipment weld repairs. He realized he was doing a lot of repairs to sickle drives and thought he could make a better part himself. So, he added a foundry to his shop and filed a patent for his own sickle drive design. Fast forward to the 1970s and '80s, the demand for farm equipment had dried up, and Farrar and past president and current chairman, Joe Farrar diversified the company into producing ductile iron castings for OEMs—adding its first automated molding lines. Those first automatic molding machines were upgraded to three Roberts Sinto in 1998—two 20 x 24 FBNs and a 14 x 19 FBM.
Farrar Corp.'s most recent major equipment installation is a new FBO-IIIS 20 x 24 molding machine from Roberts Sinto Corp. that replaced the 14 x 19 FBM. Completed this summer, the machine was coupled with a new pouring and cooling line that handles up to 186 molds before they are transferred through shakeout.
By increasing the flask size to 20 x 24 on the new line, Farrar has three molding lines with the same size flask. It makes the foundry more efficient on its "sweet spot" for ductile iron casting jobs.
"Our size range is 5 lbs. to 70 lbs., but we really like that 15 lb. to 35 lb. casting that fits the 20 x 24 flask really well," Case said.
Volume-wise, the company aims for jobs that require 3,000-5,000 parts per year. About half of its casting jobs are cored, and Farrar produces its own cores in-house. It also has a fully-equipped, captive pattern shop where patternmakers do all of the company's pattern designs, layouts, gating and risering. Recently, Farrar also invested in Magma software for solidification modeling.
The foundry pours only ductile iron; up to 10% of jobs are austempered through Applied Process—an Aalberts company. Pre-COVID, Farrar Corp. was supplying a lot of castings to the energy industry, but when that market dropped significantly, the foundry was diverse enough to see sufficient increases in jobs from other markets, such as heavy truck, industrial equipment, and turf care.
When it was time to install the new FBO IIIS, Farrar Corp. shut down for three days to marry the sand system with the new machine, but it wasn't long before the new line was up and running. The advantages of the upgraded equipment are obvious, said Robert Pyle, plant manager.
"The new FBO is a lot more forgiving with our sand," he said. "The older machine was more sensitive to moisture, so if the sand had high moisture content, it didn't like to go through the machine. It's not an issue with the new machine."
Farrar Corp. is also finding that previously problematic jobs are now running with significantly reduced scrap rates.
"It's allowed us to take on jobs that had been troublesome before," Pyle said.
Pyle also pointed out the sand blows vertically and is not pointed directly on the tool, which helps reduce wear and tear on tooling, and the mold comes out to the operator to clean and set cores.
"Plus, the cycle is 10-15 seconds faster—so actual cycle times are in the 22-25 second range—that's very quick for us," he said.
The original intention was to install the new molding line at the same time as the new shakeout system, but supply chain challenges nixed that plan. Instead, the shakeout was installed first in February 2022, followed by the new line in the summer.
One of the main improvements from the shakeout upgrade was the change from vibratory to rotary kept the sand from heating up—Pyle found that Farrar no longer had to stay so vigilant regarding sand temperature as before. Plus, new machinery meant fewer maintenance issues, and less sand is sent through the knock-off area and into the returns—leading to less slag in the furnaces.
"We have a lot better control of our sand, and it's more consistent," Pyle said.
New melting, shakeout, and molding system upgrades were necessary to increase the efficiency and capacity of Farrar's foundry. But during the last four years, the company made investments in another area that helped increase the value of its parts—the inhouse machining department in Norwich.
"We recognize with a foundry—you have finite amount of capacity that you can do," Case said. "In machining, it's not so finite, and we could grow our revenues and efficiencies there. We do a lot of parts that require three or more machining operations on them. If we can load a part in and have multiple operations performed in one transfer, it's a big efficiency scale for us."
Click here to view the article in the AFS October 2022 digital edition.
Want to know more about how to increase your capacity with automated molding?