Seneca Foundry Sees Benefits of BARINDER® Grinder
November 6, 2020

In 2019, Seneca Foundry, located in Webster City, Iowa, purchased a X7i-FDH22R-455GR-C BARINDER® , an innovative, high speed, automated grinder that dramatically reduces finishing time and labor costs. Seneca Foundy was established by the McCullough family over 110 years ago and is mainly a gray and ductile iron job shop.
Previously, Seneca was manually grinding all their castings and had a lack of labor in the cleaning room. Seneca realized it was time to start switching over to an automated system and began researching what equipment would work best for their company.  Jeff Vorhies, Sales Engineer at Seneca stated about the research phase- "When Seneca was looking into investing a machine that automated grinding, we were looking for a machine that was easy to program, easy to change over and offered flexibility."
At the end of the day, Sinto was excited to be chosen to help Seneca with the transition from manual grinding to automated grinding. "One of the reasons that we decided to go with Sinto brand was the ease of programmability of the machine. We are able to program and develop fixtures for each one of our part numbers." -Lori Mason, President of Seneca Foundry.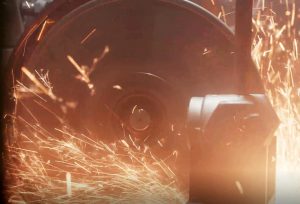 The Barinder's easy-to-learn programming is designed to be intuitive and allows the operator to teach the machine to automatically perform the same operations that would otherwise be performed manually. "With Sinto, you don't have to have a programming degree or anything or have gone to college. It is pretty simple. We did three days on-site training with Sinto and just from that little bit of time we have not had any issues programming. Haven't come across any real difficulties that we could not get past." -Alex Brown, Process Engineer, Seneca Foundry.
Over the last year, Seneca has found the benefits of the BARINDER® Grinder to be well worth the purchase. They are able to grind castings with the BARINDER® in half the time they could with traditional hand grinding. "You know the machine sets the pace, so when an operator is working on a casting, setting the fixture in and its ready to go- production wise we've seen more of a leveling." -Lori
Seneca has been very pleased with the BARINDER® Grinder and how easy it is to program and how flexible it is for a jobbing foundry. "The bottom line of Seneca Foundry has definitely been positively impacted by the BARINDER® . The safety aspects of it, the easability of training for operators, and programming multiple parts to get the job done quicker has helped us reduce some of our overall operating costs. The BARINDER® has allowed us to be more consistent in the product we give to the customer from a quality aspect." – Lori Mason.
When asked about working with Sinto, Jeff stated that, "Our experience with the Sinto team has been very positive and has been very good in both the research phase and after the purchase of the machine. Sinto is looking forward to partnering with Seneca! To learn more about Seneca Foundry, visit their website.
---
---
Want to know more about BARINDER® Grinders?