Talladega Pattern and Aluminum Works, Inc.
November 17, 2017

Talladega Pattern and Aluminum Works is an aluminum and brass casting facility located in Talladega, Alabama. Starting in 1954 as a machine and pattern shop, they now specialize in the manufacturing of quality castings used in playground equipment, pole line hardware, substation connectors, feed truck parts and highway sign structures.
High demands call for Automation and Expansion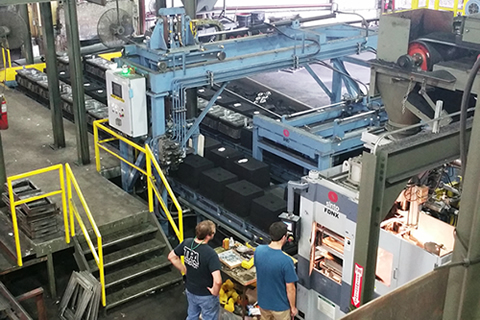 Talladega Pattern has always been a family business. Third generations, Jason and Matt Peters, continue to move the foundry towards the future with the latest cutting‐edge technology. As their business continued to grow, their demand for a new automated molding line, sand system and building expansion needed to be met.
The production, mainly done in lower volumes, had been handled by eight jolt/squeeze molding machines, but they were running at full capacity. Their customers wanted more castings and the existing equipment couldn't keep up. "We wanted to move away from being strictly manual and saw automation as the most feasible way to increase capacity and production," Jason Peters stated.
Selecting Sinto for their automated molding system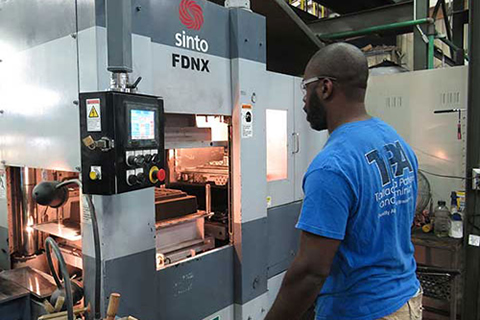 Looking at Sinto versus competitors, Talladega Pattern saw the advantages in Sinto's FDNX Flaskless Molding Machine with a mold size of 16 x 20 inches. "The FDNX was a great starting point for us on both flask size and cost point," Peters stated.
After installing the FDNX molding machine with Sinto's customized handling line, they immediately saw improvements and advantages. "We have increased productivity and more consistent mold quality," said Peters. "We have the ability to produce more molds per day and it also allowed us to increase our capacity by 60% in production over our old molding practices."
Expansion and Future Equipment
Due to the increased production, they added a 13,500 sq. ft. cleaning and shipping building and also replaced two of their furnaces. Talladega Pattern is hoping to look at more molding and blast systems in the future with Sinto.