Mold Handling Systems
Sinto custom designs, engineers, manufactures and installs high quality and robust mold handling systems built to withstand the demands of your Foundry needs.
Our systems are completely custom based on your specifications and production needs, and can be fit into your existing layout and equipment.
Sinto's fully automatic mold handling system provides solutions for the highest casting quality and increased productivity.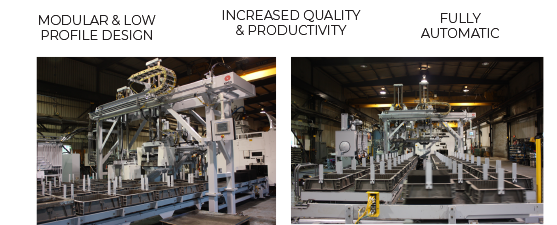 MOLD HANDLING SYSTEMS FEATURES:
Custom engineered to handle any mold size, pouring, cooling, shakeout, or other layout needs
Easily integrated with new or existing molding machines and/or systems
Improves mold and casting quality while increasing productivity
Proprietary crackback feature helps stabilize and eliminate car wear while transferring
Proportional hydraulic valves used to ensure smooth transfer and eliminate mold shifts
Fully automatic mold handling system with weight & jacket setting
Customized mold car configurations that are available in a single, double or 4 molds per car.
Proprietary crackback that helps stabilize and minimize car wear while transferring between pouring and cooling lines.
Proportional hydraulic valves used to ensure smooth transfer in order to eliminate mold shifts and metal splashing.
Easy integration with new or existing molding machines and/or systems from many different manufacturers.
Color maintenance diagnosis screens interlocked to the mold machine for easy trouble shooting.
Easily integrated with Sinto's Industry 4.0 Analytics for total process visibility.
Auxiliary mold cooling belt lines.
Quality components and accessible design provides for easy future maintenance and long term reliability.
Configuration Examples

Options

– Jacket and weight cleaner
– Early and multiple mold push-off
– Side skirts
– Custom weights
– Mold elevator
– Horizontal and incline end transfer configurations
Videos
Promotional Mold Handling Systems Video
MacLean Power Systems FBO and Mold Handling Line
FBO-IIIS Flaskless, Molding Machine and Dual Mold / Car Mold Handling Line for Talladega Pattern and Aluminum Works:
Cast Products Testimonial on Sinto Flaskless and Mold Handling Line
H&H Casting's FBO-V Flaskless Molding Machine and Mold Handling Line
Case Studies and Testimonials
Click on the links below to see recent Mold Handling System projects.
Maclean Power Systems– FBO-IIIS Molding Machine, Mold Handling System and Sinto Analytics
Pier Foundry– FBO-IIIS Molding Machine, Mold Handling System and Sinto Analytics
Cast Products, Inc.– FBO-IIIS Molding Machine and Mold Handling System
H&H Castings– FBO-V Molding Machine, Mold Handling System, Sinto Analytics and Sand Handling Equipment
Franklin Iron Works– FBO-IIIS and Mold Handling System